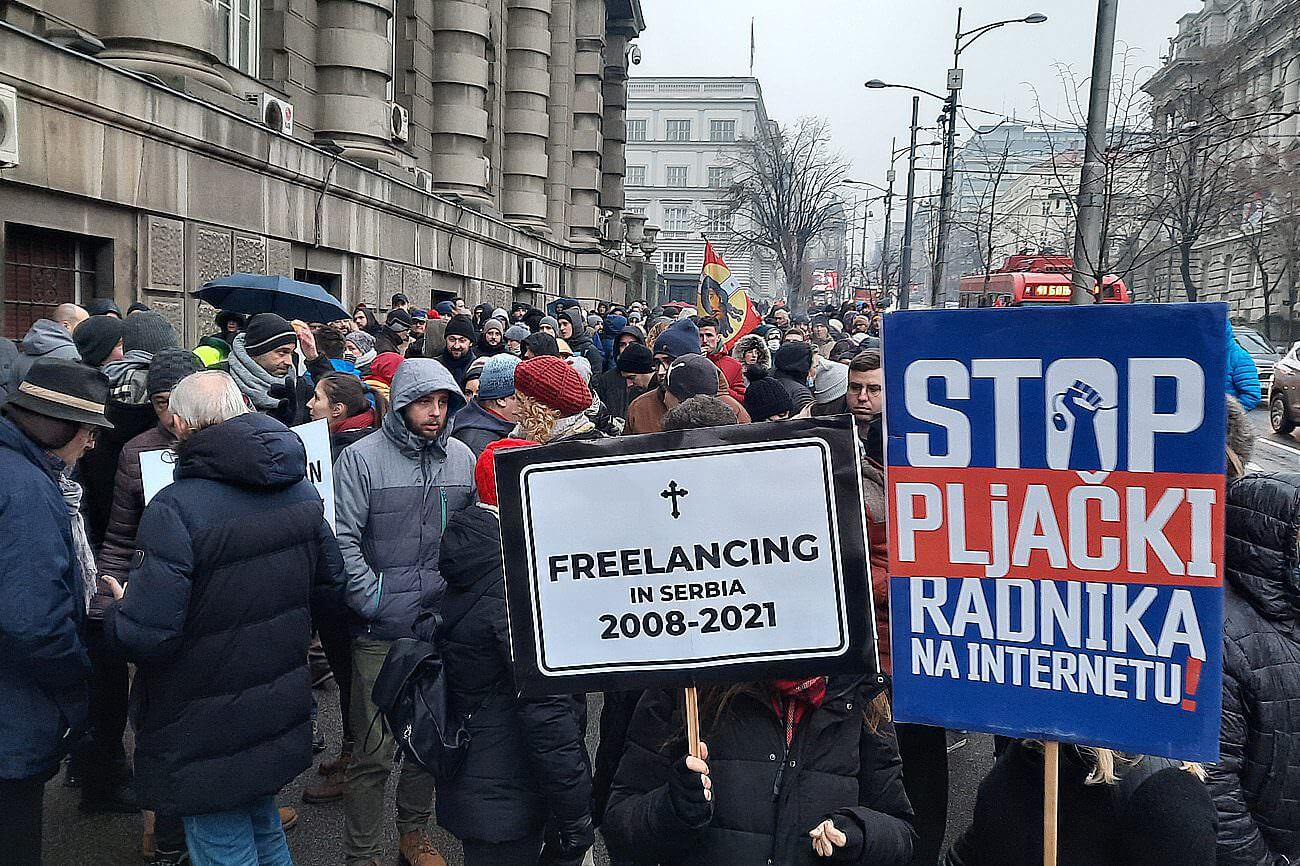 Freelancers burned tax returns in front of Serbian government (PHOTO)
The Association of Internet Workers (Freelancers) have protested in front of the Serbian government over the manner of taxation of income and the level of tax rates and they symbolically burned the tax returns that were sent to them.
President of this Association, Miran Pogacar, said that one of their requests was not to collect tax from freelancers for the period from 2017 to 2020.
"And every mother should be given the right to maternity leave. We also asked for a reduction of 4 percent, which is not high. What they request is excessive," Pogacar said.
Freelancer from Nis, Milos Stojkovic, said that because of this method of taxation, he "fell into debt slavery".
"The worst thing is that no one informed us about the payment of taxes, the worst thing is that the freelancers went to the Tax Administration asking about their obligations, while administrators said they could not pay, because there was no way of taxation. If everything had been all right, we would have been legalized as we are today," he said.
"Freelancers wanted to pay, but the state did not allow them to and the state should take some responsibility. The ultimate goal should be that we all have a representative in the assembly, we have a representative Miran Pogacar, who will say that freelancers are not thieves," Stojkovic said.
During the protest in 2021, the state agreed that they would settle unpaid income tax liabilities in installments for five past years over the next ten years, and a new tax model was agreed for 2023, but they were not granted the right to maternity leave.
These tax obligations and current ones will burden their income by about 50 percent, which is why they are dissatisfied.
At the end of the protest, a group of freelancers burned their tax returns, and as Pogacar explained, they did so symbolically because some freelancers threatened to burn themselves.
Izvor: N1, BIZLife
Foto: BIZLife