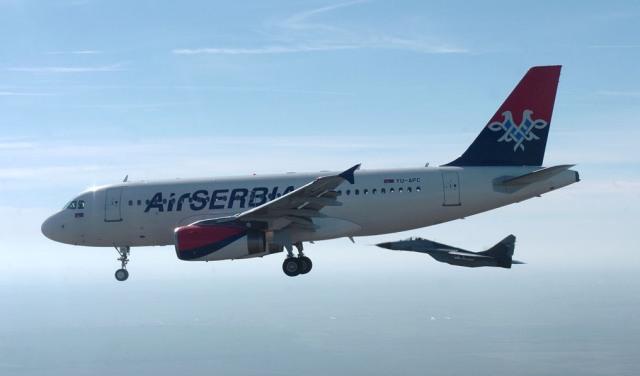 No new airplanes for Air Serbia
Airline Etihad, which owns 49 percent of Air Serbia, could cancel the acquisition of aircraft or substantially change orders for as many as 160 aircraft ordered in 2013.
This is the scenario for which two major manufacturers of passenger aircraft, Boeing and Airbus, are preparing, reports Reuters, according to the Insider.
Etihad is considering more options from which it is possible to change the type of ordered aircraft, delay delivery, and even complete cancellation of part of the orders. This information Etihad refused to comment on, Insider writes.
That this situation is possible, it was clear after a recent statement by Etihad's new director, Tony Daglas, who said that the company's new goal was to operate "in a sustainable way".
Since mid-last year, when it was announced that the loss of the company in 2016 was as much as $ 1.8 billion, Etihad is in financial trouble.
This news once again raises the question of whether the new Airbus A380 will be delivered to the Serbian airline Air Serbia during the year, as announced.
This order, as published in Insider's "Serbian-Arab Work" series, is important, among other things, because it is directly related to the $ 23.5 million advance payment that JAT had previously paid to Airbus in 1998.
Namely, that year a contract was signed between the then JAT and Airbus. Eight new aircraft were ordered and a deposit of 23.5 million dollars was paid. Airplanes were never bought, so this money stood for more than 15 years on the accounts of a French German company and it was supposed to be used when the planes were purchased.
In the meantime, according to insider research, it turned out that Air Serbia signed the 1998 agreement with Etihad and, consequently, the JAT deposit.
Namely, through the strategic partnership between JAT and Etihad, it was agreed that the airplanes for the new company Air Srbija were purchased through a large order of Etihad, and officials explained that in this way the domestic airline had received a far lower price than ordering the aircraft itself.
This year, the first of 10 Airbus A320 Neo aircraft, which are part of Etihad's order, were to arrive in Serbia.
In the financial report of Air Serbia it is stated that Etihad has the amount of 23.5 million dollars, which JAT in 1998 paid as a deposit to Airbus. It is said that Etihad will return the deposit to Air Serbia in parts, or percentage, when each plane is taken over and paid off to the end.
Izvor: N1
Foto: screenshot