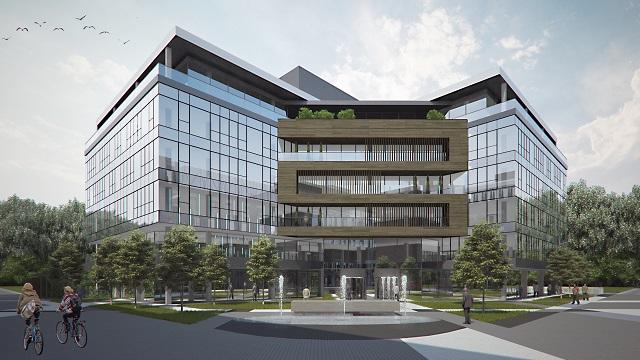 Green escape, your business oasis
The vision of an ideal office complex and an even better surroundings will soon be realized within New Belgrade's urban neighbourhood Bezanijska kosa. Green Escape complex with its modern architecture will provide functionality and comfort to the future tenants, perfectly blending quality and convenience of business ambience. The new business complex will be constructed in Blok 51, and since it is located along the E-75 highway, the project will ensure fast and easy commute to all parts of the city.
The new business complex is going to be built on three lots intended for business and commercial purposes, with plans for construction of multifunctional business facilities, fully infrastructurally equipped for all requirements. An impressive complex, comprising of 65,000 sq m in total, is going to be developed as a new city business zone, delivering a number of benefits and added value, compared to what Belgrade's standard office space market has to offer. Furthermore, the customers will be given both – the option of leasing and buying business space.
All three buildings are designed as modern, technologically advanced and functional workplaces, flexible in terms of organization of different commercial activity and all specific requirements of the future clients. Therefore, the client gets tailor-made business office. Future tenants and buyers will also have a hotel at their disposal, built within the complex.
The hotel will provide additional comfort to those who choose to situate their businesses here. Moreover, Green Escape offers business suits, conference rooms, offices for leasing, a spa-centre with a swimming pool and all accompanying content, sports facilities, babysitting services, stores and other. Green Escape complex will be surrounded with rich and luxurious greenery, which will make it a perfectly pleasant and cozy place for doing business. And while above-ground leves will be reserved for office spaces, two underground levels are going to be used as parking complementing the comfortable accommodation of all Green Escape tenants.
Over the years, New Belgrade positioned itself as the central business zone because it features far superior infrastructure than other parts of the capital, due to the availability of land and parking, as well as proximity to the airport and the E-75 highway. For this reason, 70-80% of transactions take place in New Belgrade. The rate of available office space in Belgrade is generally low, while in New Belgrade the vacancy rate dropped below 3 % at the end of the first quarter of this year.
This is precisely why it is great news that the Green Escape office complex will offer tenants 14,325 sq m of new office space within the first phase consisting of office building K3. The uniqueness of this project is also reflected in its floorplates which will cover between 1,500 and 1,600 sq m, offering future tenants great flexibility when it comes to interior design and optimal efficiency of their office space solutions.
The new, imposing business complex is a project of a renowned construction company Imel, with exclusive partnership for business space renting from the leading consultancy International, part of Cushman&Wakefield Group.
Izvor: BIZLife
Foto: Promo