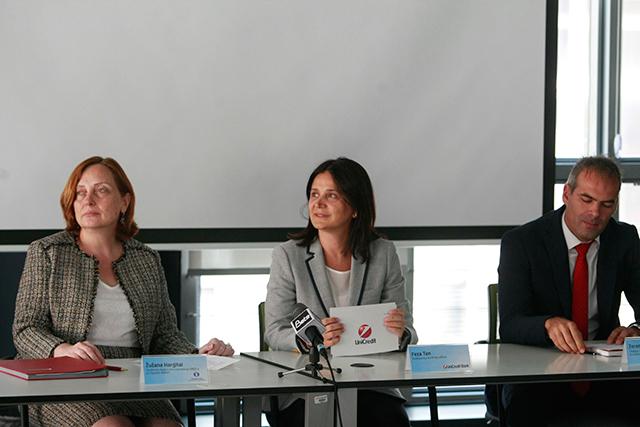 UniCredit Bank and EBRD continue to finance Serbian economy and its citizens
Long term partners, The European Bank for Reconstruction and Development (EBRD) and UniCredit Bank Serbia signed today an agreement on different credit lines worth total EUR 160 million to further increase the financing of Serbian economy and its citizens. Thanks to this cooperation clients will not only have increased opportunities to access financing, but they will also benefit from reduced pricing.
Under this Agreement, EUR 65 million and RSD 4, 1 billion (Euro 35 million) are dedicated to financing Small and medium enterprises. They can use them for investments and working capital to further boost their business. Within this credit line RSD loans will be offered, to boost the use of local currency to reduce the possible effect of exchange rate volatility and increase funding options for small borrowers.
A credit line of the amount of EUR 60 million will be dedicated at expanding the access to financing first-time homeowners. Solving the living space issue represents one of the priorities of both individuals and families in Serbia. Thank to cooperation with EBRD, UniCredit Bank will continue to offer housing loans under favorable conditions tailored.
Zsuzsanna Hargitai, EBRD Regional Head of Western Balkans stated: "We are pleased to further our cooperation with our long-standing partner UniCredit Bank, by offering financing for Serbian businesses in foreign and local currency, and extending mortgage loans to Serbian citizens. Not only will this agreement help Serbian businesses to invest and boost their competitiveness, but it will also support many Serbian citizens to become first time home-owners. "
Feza Tan, CEO of UniCredit Bank Serbia stated: "In addition to the mutual projects completed successfully with EBRD, we are pleased that, once again, as a responsible financial institution and reliable partner in Serbia, we are supporting the development of local economy and its citizens. We are all well aware of the importance that SME segment, as a key engine for economic growth and job creation and thus we are striving all the time to find ways to offer products and services that can improve and expand their businesses."
Izvor: BIZLife