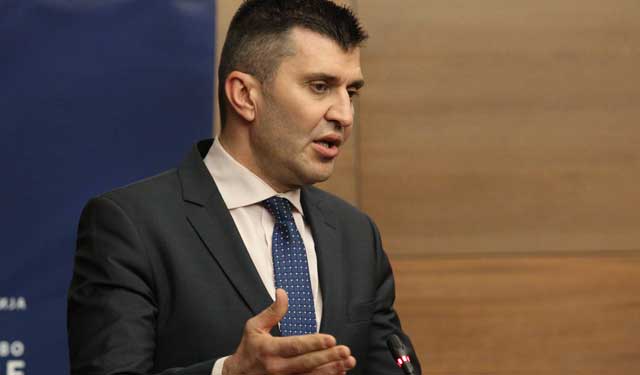 The workers are complaining mostly on salaries
Minister of Labor, Employment, Veterans' and Social Affairs Zoran Djordjevic stated that workers in Serbia mostly complain about their material situation, adding that the state is doing everything to ensure better conditions.
"They are dissatisfied with their material situation. That's number one when it comes to complaints, " Djordjevic told Kurir.
The Minister urged them to appeal if there is a case of discrimination against pregnant women and maternity, saying that this will not be tolerated and will be tackled in the most efficient way.
On the occasion of the International Labor Day, on the 1st of May, he told workers: "Order, Work and Discipline".
"The state's attitude towards workers had drastically changed. Some problems have been resolved by strikes and protests in the past, and now, should they exist, they can be resolved with a conversation, "Djordjevic said.
The Minister of Labor assessed that there is a good and continuous socio-economic connection between the state and workers, employees and employers.
According to him, the working conditions and care taken of the employees is much better now that it was before.
"The concern for the families rose to the first place, since it is the most important value. The idea of ​​1st of May is that people celebrate working, but also take care of their family and spend time with them. I think we are on the right track now, " Djordjevic said.
The Ombudsman has a slightly different attitude
On the occasion of the International Labor Day, citizens' protector Zoran Pasalić also announced that the position of workers in Serbia is still far from satisfactory, as their rights are violated and insufficiently protected.
"High unemployment and illegal jobs jeopardized right to use vacation and sick leave. The lack of social dialogue with employee representatives, situations where there is no fair remuneration for work or no contribution for health, pension and disability insurance, show that rights of workers in Serbia are violated and insufficiently protected, " Pasalić said in a statement.
He estimated that progress on equalizing the position of men and women in the labor market should continue, in order to, amongst all, allow the right to work to women from particularly vulnerable social groups to victims of violence, people with disabilities, Roma women.
According to him, although the protection of pregnant women and maternity is normatively ensured, in practice, pregnant women and maternity groups are still facing problems.
He invited employees to report violations of their rights to the Labor Inspectorate, and if these or other services do not act conscientiously, they should lodge complaints with the Protector of Citizens.
Izvor: Beta
Foto: Beta/Milan Obradović