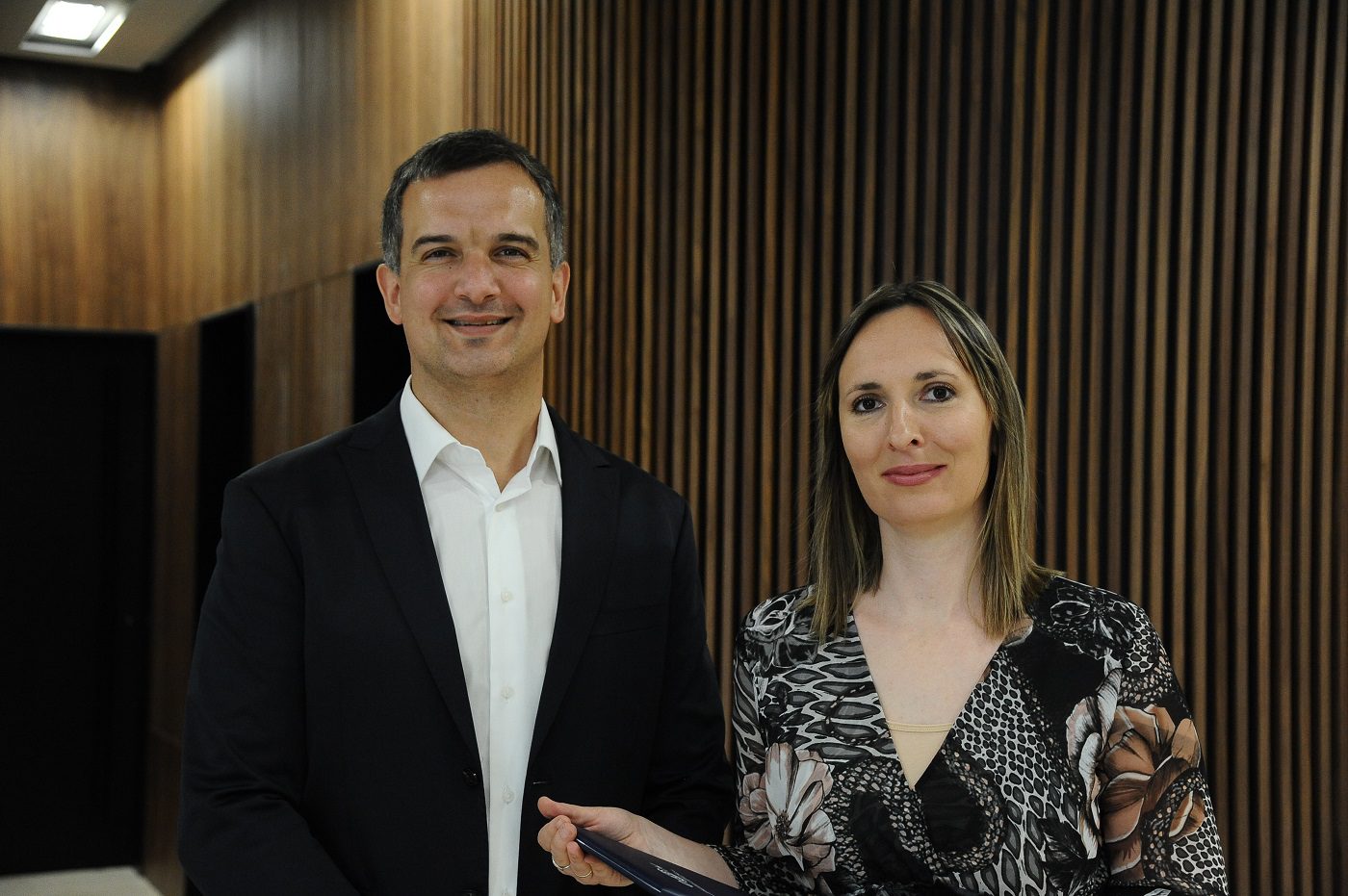 SAS and Faculty of Organizational Sciences of University of Belgrade: Creating a holistic mentality for innovation in academic education
On May 12, the Faculty of Organizational Sciences (FON) of University of Belgrade signed a strategic partnership agreement with SAS,global leader in AI and Data Science, on the premises of its new building. Dusan Barac, Full professor, Vice Dean for digital development of FON and Rosanda Milatovic Skoric, General Manager for SAS in Adriatic Region share their thoughts on the role of universities in accelerating digital transformation for business and society and the qualities young scientists must develop, in order to thrive in the information-loaded world of the future.
 Can you please describe the scope of collaboration between FON and SAS and your aspirations from it?
Dusan Barac: For FON, long past are the times where universities were detached from the business world as in their "ivory towers"; the dynamic changes taking place in the world, our economy and society make it necessary for students to get acquainted with the challenges they are going to face upon finishing their studies, as early as possible in their education journey. FON has made a significant effort to map the business needs in its curricula and that is why we are intensifying the collaboration with companies since the second half of 2021, as we consider the link between academia and business as a strong pillar of our vision. SAS, as an organization with a strong culture of curiosity and learning, is a valuable strategic partner for FON, hence the scope of our collaboration revolves around the education of students and teachers in data science and extends to
Visiting lectures from SAS executives,on a regular basis for bachelor, master, and PhD students
Students actively using SAS Software for learning and teaching purposes
Certification of both FON teaching staff and students in data science
Enrichment of curriculums with data analytics related topics
Joint mentoring for students on thesis and final works
Organization of events, such as: special days, hackathons, summer schools, conferences, etc.
Student internships
Resourcing
R& D and joint projects
Rosanda Milatovic Skoric:At SAS, just as we believe in the power of data, we equally believe in the power of education.Therefore, I could not agree more with Dusan on the importance of bringing business and academia closer.This collaboration should go beyond technical skills and certifications, no matter how important the later are. The world is changing fast, and the rapid pace of innovation means we need to prepare the bright curious minds of students for the challenges of the future we do not yet know.Education must evolve to teach students how to think, adapt, and integrate different sources of information. In SAS, we seek to develop professionals who enjoy solving problems they are passionate about and who are equipped with the skills to act on curiosity. This is the spirit we want to convey with this collaboration, and we have a lot of experiences to share. SAS software is being used in universities all around the world and our organization is relentlessly working on educating professors and students in the subject of data science. SAS Certifications are regularly mentioned as the most important in the field, in global lists such as the CIO Online List. We are happy and proud to be joining forces with FON, whose vision for "openness" and innovation is totally aligned with the fundamental values of SAS.
 How does the education in data science prepare students for tomorrow's challenges?
Dusan Barac:As Rosanda mentioned, we need to create students willing to abandon the concept of "learn once" and adopt the mindset of constant learning. In this quest, it is important to foster the fundamental skill of data literacy as a basis for all study programs, technical and business alike. FON has developed over the years a strong foundation in data science, with the proper infrastructure and high-quality tools. We need to capitalize on this expertise and "educate" all our students in understanding how data is being created, analyzed, and used. Data Literacy today is a prerequisite for success in the entrepreneurial world, so it is our mission to provide this skill for the future entrepreneurial leaders who now study in FON classes.
Rosanda Milatovic Skoric:It is important for students to understand that data is the key to solving the world's problems—no matter the domain. One of the greatest challengesthe society has been facingfor a while is taking data that appears to bedisconnected and bringing ittogether to use in a meaningfulway. To do that, students as employees of the futuremust adopt a strategic approach todata analytics, fueled by the rightmix of tools, practices and knowledgeto help them achieve their specificgoals. Like reading, data science should not be seen as a single discipline, but rather an interdisciplinary tool for unlocking innovation across different areas of our lives as the only secure mean of being ready for the future we cannot predict.
 We always hear a lot about ecosystems of innovation, in business, as well as in national level. In your opinion, what is the role of universities in these ecosystems for innovation?
Dusan Barac: It is though the collective power of institutions, companies, processes, technologies, and relations that innovation is created. FON strives to act as an orchestrator for all the parts of modern digital ecosystems and our new study programs are strongly based on the "collective wisdom" we have gathered from them. We are involved in numerous EU, global and local initiatives that drive digital transformation for business and society, as well as in several digital transformation initiatives that have been deployed recently in the public sphere. We are also connected with e-government platforms, services, and infrastructure (For instance, National platform for AI).
We are positioning ourselves as a modern university and a key stakeholder of the digital transformation by developing a set of innovative, digital services for both business and academia based on best practices from top universities. Examples include a platform for digitalization of enrollment tests (TestMaster), a portal for companies' job advertisement, connection between FON alumni, a new website and the development of FON mobile app and the use of e-learning platforms. The insights we gather from our active participation in digital ecosystems is being depicted in the study programs of our new accreditation which will be available from the winter semester of 2022 at all study levels.
Rosanda Milatovic Skoric:As the places where knowledge is being created and future leaders are being nurtured, universities can be the catalysts who propagate the innovation developing within the ecosystems, for the benefit of communities and societies. Therefore, strategic partnerships such as the one between FON and SAS have the potential to further accelerate the digital future and wellbeing of our society.
---
Discover more about SAS promoting curiosity and data literacy amongst students, citizens and academia here 
Find out more about the Academic and Research programs of FON, as well as its numerous initiatives here
Izvor: BIZLife Magazine