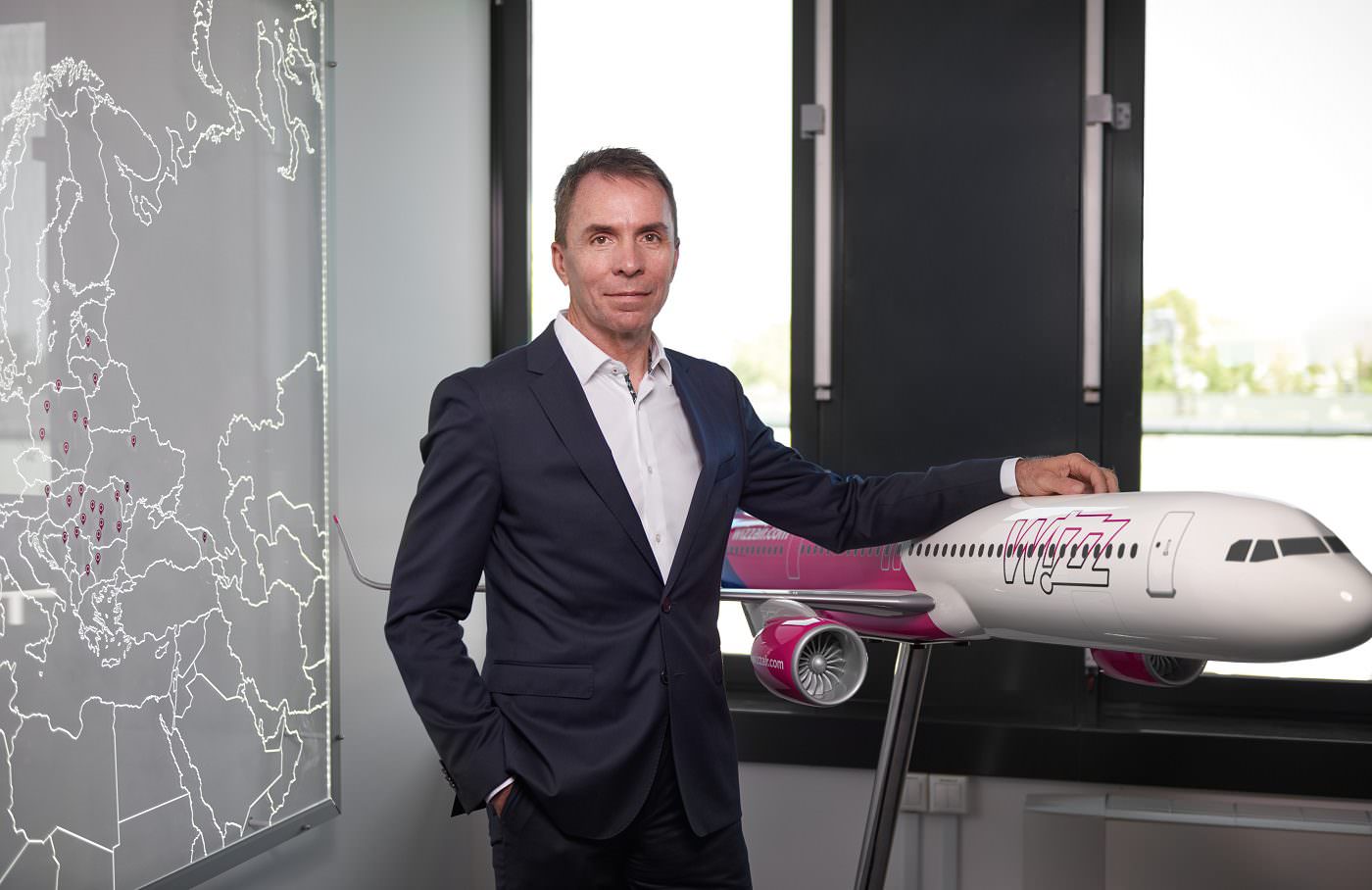 Jozsef Varadi: Operating model must change if external environment does not support it
Over the past few years, the aviation industry has been in big trouble: the coronavirus, shortage of employees, and then the war in Europe. All these problems have led to a reduction in the number of passengers, and, therefore, in profit.
At the moment when the recession is being talked about in Europe, an airline company managed, according to its director, to take advantage of the situation, and this boldness was rewarded by the users of their services. Their business grew to 130% compared to European aviation, which today operates at around 90% of capacity.
Director and founder of Wizz Air, Jozsef Varadi, is called the most important man in Central Eastern Europe, and this claim is confirmed by the fact that the Forbes magazine has named him one of top 100 most successful Hungarians who achieved their success independently.
Exclusively for the readers of BIZLife, Jozsef Varadi shares his recipe for success and the ultimate business advice, while also talking about the problematic situation on the aviation industry market and how the leading airline company in Europe, but also in the world, is coping with this situation.
You were recently named the most successful Hungarian. What do you think led to this?
I don't know, you should be asking those people who were rating me. But, seriously, I think Wizz Air has become one of those still very rare ventures in Hungary or, I would even say in Central-Eastern Europe, that has been globalising and that has become a much bigger impact business than just Hungary or even Central-Eastern Europe. If you look at Wizz Air today, we have a European setup and even our geographical reach extends beyond Europe by having an airline in Abu Dhabi, so we are operating today four airlines as a group, Wizz Air UK in the UK, Wizz Air Abu Dhabi in the UAE, and in Europe we have Wizz Air Hungary and Wizz Air Malta, which is the latest airline we added to the franchise. So, we are becoming increasingly global, with a global impact on the industry, on the consumers. Just this year we are going to carry more than 50 million passengers. We are the fastest-growing airline in Europe and now we are 30 percent larger than what we were prior to the pandemic.
How the crisis caused by the war affects the airline company Wizz Air?
I think that the last 2.5 years have been probably the most challenging time for the airline industry overall, globally, but especially in Europe, and especially in Central-Eastern Europe. If you look at it, we emerged from the COVID period, with a lot of strengths of the business. We invested into new markets, we invested into new aircraft. Since the breakout of the pandemic, we have added 50 aircraft to the fleet. I don't think any other airlines have done it.
So, we are very proud of that agile development. But, at the same time, we are now seeing the impacts of the war, which obviously affects Europe's security. It affects the consumers through inflation, the energy crisis coming, and it affects the performance of the economies. Europe started talking about going into recession and all those sorts of issues. So, it is like another layer of challenges what we are now dealing with. Nevertheless, I think we remain agile, we remain positive about the future.
What about tickets, will the prices go up or not?
I think ticket prices tend to be the function of fuel cost in the market. So, if I look at our cost structure in the last ten years, our ex-fuel, so when you don't take fuel into account, our ex-fuel cost has been very stable. Even it's been on a downward trend.
The really varying component is fuel, so when you are having a high fuel price out there, then that affects your input cost and that affects your fares. But it also goes the other way around. When fuel price comes down, prices as a result will come down.
What do you think, will the travel business continue to exist, at a time when people are working from home, remotely, at a time when war is raging?
I don't think that this is a fundamental issue to the industry. If you look at Europe's aviation today,  Europe is currently performing roughly around 90% pre-pandemic capacity on an industrial basis. We are performing around 130% capacity. So, clearly, we have been taking an advantage of the situation and we have been rewarded by the trust of the consumers buying Wizz Air tickets.
So, it's not like the industry is collapsed as a result of people deciding on staying in home office and not travelling. We are not overly biased towards business travellers, Wizz Air is for everyone.
What are your company's priorities in the coming period, what will you work on?
We continue to expand, we continue to take new aircraft deliveries, we continue to open new routes. Today, we have a fleet of 168 aircraft. In the next 12 to 18 months, that fleet is going to build up to 200 aircraft. So, we have a lot of growth capacity coming, and we are looking at ways of best deploying those new planes in the system. I think we are seeing a lot of market opportunities still, so we have a lot more opportunities than capacity what we are having
I also think that you might be seeing some level of consolidation in the market. COVID sucked a lot of liquidity out of the industry and now this upcoming inflation and recession environment could continue to do that.
We have a lot of money, we have a lot of cash on hand, we are very liquid as a business, so we still can invest.
For the end, what is your ultimate business advice?
We are in a world that is a lot less predictable than it what used to be and I think what it requires basically is two things. One is that you have to have resilience, financial resilience, operational resilience, organisational resilience. So, you have to be able to withstand the pressure coming from the changing external environment. And I think the other factor is that you need to be adaptable.
So, I would say, build resilience to be protected from the external shocks and the external changes, and also be adaptable, be agile to process those changes and deal with them.
Izvor: BIZLife