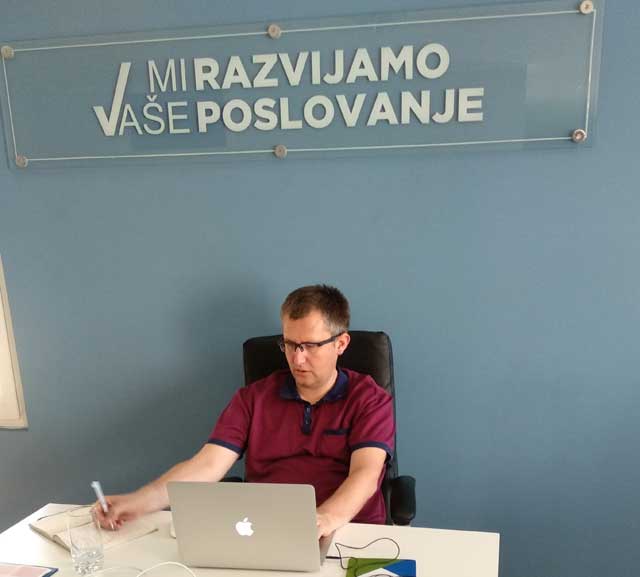 He created a business from the question "How can I be the first on Google search"
He took a loan with an idea of someone else making him a website and positioning that website on Google. However, he spent half of the money so he had to do a lot by himself. Slavko Pejovic believes it is a good thing that he "wasted" that money, as otherwise he would not have learned what he knows today – to bring you to the first page of Google. Many believe that founder and director of the company WBS has "connections in Google" as it is a mystery how he is able to do that and where he obtained knowledge, skills and resources. This is a story about the company Web Business Solutions that deals with optimisation of websites, web shops, as well as other marketing ventures on the Internet.
"I used to work in a state-owned company where I had a responsible job and I was well-paid for someone who just started working. However, something made me restless, I was not completely satisfied and I did not see myself in that office job from 9 AM to 5 PM. Along with that job I was teaching mathematics and I organized river rafting tours over the Internet. Thus I came up with an idea that I could use that network to expand my business or to find a job that I would assimilate with. Back then I did not know anything about the Internet, but I understood that it provides possibilities and it could be used for business," Slavko says.
He created a website "Enterijer stana." He had an idea of someone else creating a website for him and positioning that website on Google, and he would sell services to clients. Ten years ago he took a loan of EUR3,000 and invested half of the money in website development and spent the other half. Looking from today's perspective, it was a good thing that he spent half of that money, as he would have never learned what he knows today.
"Website and optimisation were completed just fine, but additional work needed to be done in order to bring that website at the top of the Google search, and I did not know anything about that. Since I have already spent the other half of the loan, I did not have funds to pay someone to position website for me, and I started learning about that. During the day I worked in a state-owned company, made improvements on the website in the afternoon and at night I would learn about SEO and improved Facebook page of "Enterijer stana" that now has around 330,000 members."
Izvor: BIZLife
Foto: promo