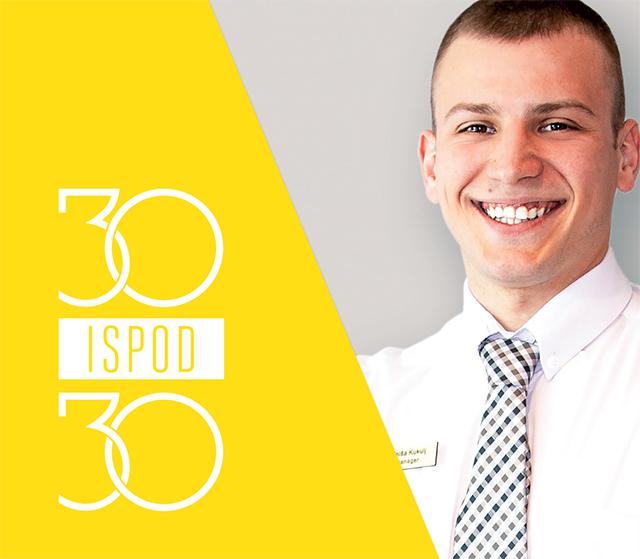 Sinisa Kukulj, Manager of Fontana Restaurant, McDonald's
After graduating from secondary school, Sinisa wanted to start his business career as soon as possible, so he came to Belgrade, where he started working in a well-known bakery, taking advantage of an opportunity to try his hand at making pastries and selling them. He soon wanted more and applied for an online job advertisement for McDonald's. He started working there in 2017 as a trainee and he went through all levels of training and education to become a manager at Fontana Restaurant in a year and a half. Sinisa's competitive and team spirit, accompanied by hard work, a lot of effort and desire to learn and improve on a daily basis, helped him thrive. His current position in the company and the experience he has gained make him satisfied and his plan is to continue learning and developing additional skills and abilities. Sinisa has trained karate. He used to be a member of the national team of Serbia, in the junior category. He won several gold, silver and bronze medals at international and national competitions.
Is there anything you sacrificed in order to get where you are now? The job of the manager is quite demanding and it requires constant concentration and dedication, so I had to cut down on going out at night. 🙂
Has success reached you or have you achieved success? I have achieved success :-). I have worked hard, made a lot of effort, studied daily, followed all the procedures, which has been recognized by McDonald's and that is a way to make progress.
What is the most important lesson you have learned in your work so far? You should never give up.
What is the ultimate goal? There is no ultimate goal. There is only a desire for continuous learning, improvement and advancement in every aspect.
Favorite subject at school? Physical education. Hence my success while I was practicing karate and football.
Your first job? I started working in a well-known bakery in Belgrade, but I stayed there only briefly, so I can actually say that this is my first job at McDonald's.
Business role model? Director of McDonald's in Serbia, because he has gone through all the levels in the company and thanks to his vision of how to manage a team and a company, and with a constant desire to learn and improve, he has managed to reach the highest position in the company.
A song as a motto? "We are the champions" by Queen, because that is exactly who we are in our business operation.
Izvor: BIZLife magazin