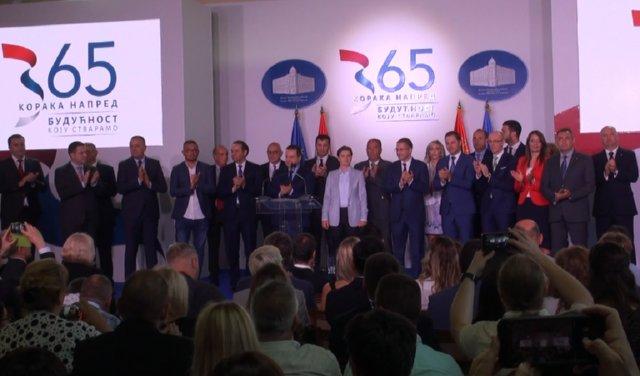 Government's top 10 in the first 365 days
Presenting the results of 365 days of Government's work, Prime Minister Ana Brnabic has said that the Serbian government is at citizens' disposal, that she is very satisfied with the results and in previous 365 days they moved both society and the country forward.
Pointing out 10 most important results in the first 365 days of work of the Serbian government, Prime Minister has emphasized that pensions are increased by five percent, pension cutbacks that were adopted in 2014 will be revoked, and minimum wage has also been increased by ten percent.
She has also stipulated better business conditions and better position of Serbia at the World Bank's "Doing Business List", and 35 new contracts with domestic and foreign investors have been concluded, thus 9,227 new jobs have been secured.
Brnabic has pointed out that Serbia has attracted 12 times more foreign direct investments than it is expected for the economy of our size, thus ranking Serbia first according to investment attraction index, among the competition of 94 countries.
Prime Minister has listed introduction of information technology and computing as mandatory subject from the fifth grade of elementary school, introduction of e-diary and enrolment of more than 40 specialized IT classes in grammar school among the 10 most important results.
When it comes to digitization, she has pointed out that the Digital Agriculture Centre has been opened at "BioSens" institute in Novi Sad, and that the first digital farm has been opened in Backa Topola, while the first National Data Centre has been opened in Belgrade.
Opening 36 kilometres of the highway on Corridor 10 for traffic and re-establishment of railway traffic on Zezelj Bridge in Novi Sad have also been mentioned as one of the results.
A new Nis based Clinical Centre has been opened, with state of the art and cutting edge equipment in this part of Europe, and Law on Construction of Apartments for Members of Security Forces has been adopted.
The opening of the Museum of Contemporary Art and the National Museum is included in the main results of the Government.
The introduction of e-management has continued, while the Law on Electronic Commerce and the Law on Electronic Administration have been adopted.
The Prime Minister has reminded that automatic health card certification has been introduced and the project "Baby, welcome to the world" has entered its second phase, while "eRecept", that allows automated issuance of prescriptions for patients with chronic diseases, has been introduced.
Izvor: Beta, Agencije, BIZLife
Foto: screenshot