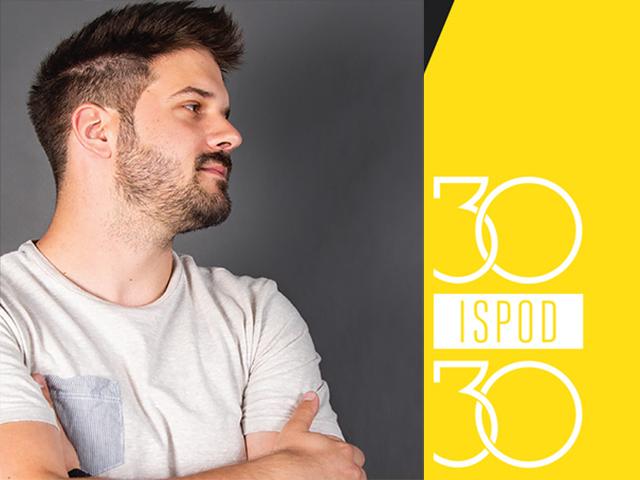 BIZLife "30 under 30": Milos Skokic, Managing Partner, "Ziska"
Milos began his professional career in 2013 in the marketing agency Communis DDB, as a member of the digital media team. In this period, he dealt with the online presence of some of the biggest brands on the market: Atlantic Group, State Lottery of Serbia, Samsung, Heineken, etc. In 2015, he won the SoMo Borac Award for the campaign for the "Sweeet" brand on the "WhatsApp" platform, in the category of alternative advertising channels. In April 2015, he joined the digital team of the Executive Group Agency, where he was managing the team that worked on the online presence of the Coca-Cola Company and a large number of its brands on the markets of Serbia, Kosovo and Macedonia. In 2016, he founded the Ziska agency together with Goran Jankuloski. The agency has collaborated with some of the biggest brands in Serbia, mainly on digital strategy, content creation and web production projects. As of 2018, he has been a certified DIMAQ trainer and he has helped professionals in the marketing and media industries perfect their digital marketing skills. He has talked at a number of regional conferences.
Is there anything you have had to sacrifice in order to get where you are now? I could answer briefly that there is, but that is really not how I view the whole thing. Every choice we make certainly means sacrificing something else, but if we know what we are doing, we do not have that negative feeling that is necessarily associated with the word "sacrifice". I would rather say that I have made some choices, that I have mainly been aware of them and that I would do it all over again.
Has success reached you or have you achieved success? I like to think that I have achieved success, but in reality, success has reached me. Usually at a time when I do not expect it, in a manner I did not anticipate and with consequences that were not obvious at first. I think that, in general, a healthier attitude towards success, however we define it, is that we achieve it, that we are active participants in the process, that the things we do make a difference. It is important to remember that these things are not directly correlated and that sometimes there is a big time gap between the actions and the effects of those actions in business.
What is the most important lesson you have learned in your work so far? "80% of success is showing up." Things are easier than they seem from outside. In most cases, you just have to start taking action. When you "get your hands dirty", any new information and unsuccessful attempt will significantly affect your self-confidence and you will quickly start looking at the whole thing from the inside. You will be able to deconstruct a business challenge and approach it much more operationally and with more motivation. Experience has taught me that it is useful to shorten as much as possible the time period between "How does this work?" and "I have tried three times, I have failed and now have an idea what I will do differently the fourth time."
What is the ultimate goal? I do not think there is one. That is the beauty of it. This does not mean that there are no specific goals for this year, some less operational for the next three years, but the "ultimate goal" would be to assume that we have all the information today and that we can decide where we will be "at the end", but in reality, new information comes to us all the time and we must allow it to change our plans to some extent.
Favourite subject at school? Literature.
Your first job? A street corn seller.
Business role model? I do not look up to business people, but to the authors whose work inspires me.
A song as a motto? Not a song, but the whole album. "Sketches of Spain" by Miles Davis.
Izvor: BIZLife magazin